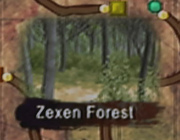 A forested area lying in between
Vinay del Zexay
and
Brass Castle
, the Kuput Forest is an frequented path taken by travellers on their way to the Confederacy's capital. The city being rich in trade, it is through the forested path that merchants must travel in order to transport their merchandise outside of Zexen. Monsters in the area are relatively weak, although it is not uncommon for a party to encounter a particularly powerful foe.
Ad blocker interference detected!
Wikia is a free-to-use site that makes money from advertising. We have a modified experience for viewers using ad blockers

Wikia is not accessible if you've made further modifications. Remove the custom ad blocker rule(s) and the page will load as expected.