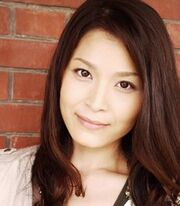 Yūko Kaida (甲斐田 裕子 Kaida Yūko?, born January 14, 1980) is a Japanese voice actress and theater actress from Kanagawa. She works at Ken Production. Kaida's most known roles include Neela Rasgotra in the Japanese dub of ER, Shimei Ryomou in Ikkitousen, Kyō Takamimori in Potemayo, Amane Ootori in Strawberry Panic!, Minako Tsukiyama in Maria-sama ga Miteru and Matsu in Sengoku Basara.
Characters
Edit
External Links
Edit
Ad blocker interference detected!
Wikia is a free-to-use site that makes money from advertising. We have a modified experience for viewers using ad blockers

Wikia is not accessible if you've made further modifications. Remove the custom ad blocker rule(s) and the page will load as expected.