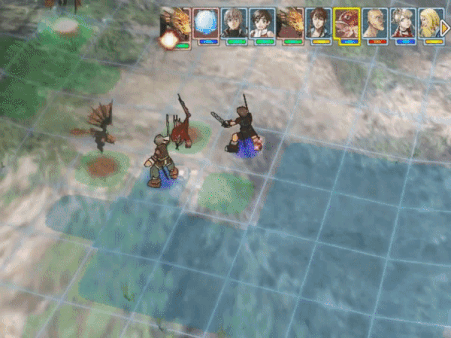 The True Friends Attack is a recurring unite attack in the Suikoden series. It involves a duo of human from the 108 Stars of Destiny coming together to causing significant damage to the enemy.
Suikoden IV
Edit
The True Friends Attack deals 1.5x total damage(at lv.1) to one enemy. In it Snowe and Lazlo charge the enemy, first Snowe slashes the enemy, then Lazlo slashes the enemy, then Snowe slashes the enemy again and Lazlo slashes the enemy again. Finally both Snowe and Lazlo slash the enemy once more (followed by a replay) to end their attack.
Replaces the original Friends Attack at late game.
Required MembersEdit
Suikoden Tactics
Edit
Effect: Power 130
Special Notes: None
Enemy/Ally distinction: Yes
Delay until usable: Fast
Required MembersEdit