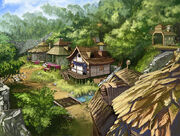 Telbe Village is the Hero's hometown. It is under The Regional Force. It's Village Chief is Hagar Byarkie.
Overview
Edit
It is a small village located at the very eastern part of the region. It's located close to the Lake Fortress, which was used by the hero from the 100 years ago, Torwald Albarek, as his and his friends' base.
General Store
Edit
| Name | Description | Initial Cost |
| --- | --- | --- |
| Medicine | A first aid kit capable of healing simple wounds. HP +200 | 50 Potch |
| Fire Stone | A stone that possesses Fire element. | 150 Potch |
| Medicinal Flower | Its extract is used for medicinal ingredients. | 100 Potch |
Equipment Shop
Edit
Name
Description
Initial Cost
Short Sword

An ordinary small sword that can be wield even by those who has no strength. It almost has no attack power.

Attack +7, Hit Rate 95%, Maximum Smithing 20

500 Potch
Light Armor

An ordinary armor. A favorite among hunters and the likes.

Defense +7, Evasion Rate +2%, Maximum Smithing 20

350 Potch
Cotton Clothes

A clothes made from soft cotton.

Defense +5, Evasion Rate +3%

300 Potch
Silk Blouse

A light blouse made from silk.

Defense +6, Evasion Rate +2%

450 Potch
Glass Ring

A ring with polished glass bead.

Defense +1

100 Potch
Sandals

A pair of durable leather sandals.

Defense +2, Evasion Rate +1%

200 Potch
Please help us improve Suikoden Wiki by creating or editing any of our articles.