Tai Ho
Talk

0
2,511pages on
this wiki

Tai Ho is the Tenhei Star in Suikoden and Suikoden II. Tai Ho is a well known fisherman who has sailed many seas. He's also a known smuggler and gambler, with contacts with merchants like Kun To. He and Yam Koo have sworn the oath of brotherhood after working together for many years.
Biography
Edit
Gate Rune Wars (Suikoden) Edit
During the Gate Rune Wars, Tai Ho's aid was enlisted by Tir to explore the castle on Lake Toran. Tai Ho was also helpful with his sailing expertise as well as pacifying and recruitng the Lake Toran Pirates.
Post Gate Rune Wars Edit
After the war, Tai Ho took a contract with Kun To in order to escape Kimberley, who had imposed herself on his household.
Dunan Unification War (Suikoden II) Edit
While operating in Coronet, Tai Ho encountered Riou, who was seeking to cross to South Window. Tai Ho provided his services across the lake. Later, Riou was in need of skilled seamen, and Tai Ho joined to help pilot a ship to Two River. Tai Ho remained with the group for the duration of the Dunan Unification War.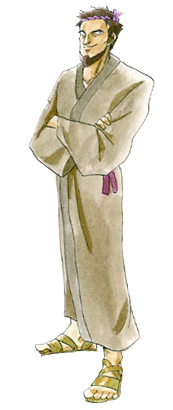 Recruiting Edit
Tai Ho joins the Tir automatically in Kaku when going to explore Toran Castle.
Character Details
Edit
Unite AttacksEdit
Tai Ho can participate in both the Fisherman Attack.
Attached RunesEdit
Recommended RunesEdit
Due to his weak magic abilities, an effect rune would be recommended to specialize Tai Ho for physical attacks.
Tai Ho is in a required party early on, and is required for a battle with pirates to recruit them later in the game. He's a decent attacker but isn't very good with magic, so an enhancement rune like a Hazy rune or Killer Rune are recommended.
Weapon GrowthEdit
Name
Satsuki
Akemi
Mizuki
Level
1
2
3
4
5
6
7
8
9
10
11
12
13
14
15
16
Strength
7
11
15
19
27
33
40
47
56
66
88
97
107
119
136
150
EquipmentEdit
Head -
Body -
Hand -
Foot -
Suikoden II
Edit
Recruiting Edit
Tai Ho appears in Suikoden II as one of the 108 Stars of Destiny. He can be recruited in Kuskus as one of the boatmen needed to get to Two River, however you need to win 5000 potch from him in Chinchirorin.
Tai Ho is an average combat character.
Weapon GrowthEdit
Name
Shina
Kanae
Mizuki
Level
1
2
3
4
5
6
7
8
9
10
11
12
13
14
15
16
Strength
5
8
12
24
32
37
42
48
53
80
88
98
110
120
130
140
Recommended RunesEdit
Tai Ho can use the Unicorn rune for his spear, which makes him useful against enemy columns.
Richmond InvestigationsEdit
Name: Tai Ho
Age: 37
From: Kaku, Toran Republic
Position: Navy Captain
Note: Original member of Toran Liberation Army
"He used to be a fisherman living on Lake Toran, but he's got a lust for life and wanted to see more of the world if ya know what I mean."
"He says he came to the City-State of Jowston to work for a guy name Kun Tze, but the truth is he was just trying to escape his wife."
"He's Yam Koo's brother-in-law. But they've been friends ever since they were kids."
Suggestion Box LettersEdit
Cook-Off IntroductionEdit
"Here's a man of simple pleasures. For breakfast, it's got to be miso soup and rice. Nothing else will do. It's Tai Ho!!!"