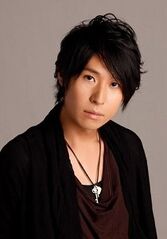 Suzumura Kenichi (鈴村 健一, born September 12, 1974) is a Japanese voice actor. He is most known for the roles of Hikaru Hitachiin from Ouran High School Host Club, Shinn Asuka from Mobile Suit Gundam Seed Destiny, Sogo Okita from Gintama and Lavi from D.Gray-Man. He voices the main protagonist in the Genso Suikoden radio drama and CD drama.
Characters
Edit
Selected works
Edit
Astro Boy (Yukio Nishino)
Beyblade (Fuji, Steve, Bartholomew)
Black Butler (Demon triplets Thompson, Timber, and Canterbury)
Captain Tsubasa (Road to 2002) (Genzō Wakabayashi)
Crayon Shin-chan (Naoki)
D.Gray-man (Lavi)
Digimon Frontier (Koichi Kimura, Duskmon, JagerLoewemon, Velgemon)
Dragon Drive (Hikaru)
Fresh Pretty Cure! (Souler)
(Galaxy Angel (Minister's secretary Katō)
Gintama (Sōgo Okita)
Gokusen (Shin Sawada)
Gravion Zwei (Eiji Shigure)
Gravion (Eiji Shigure)
Gundam Seed Destiny (Shinn Asuka)
Hungry Heart: Wild Striker (Yūki Kagami, Yūya Kiba)
Ichigo 100% (Junpei Manaka)
Macross 7 (Morley) (debut)
Macross Zero (Shin Kudo)
Naruto Shippuden (Utakata)
Ouran High School Host Club (Hikaru Hitachiin)
PaRappa Rappa (Matt)
Pokémon Advanced Generation (Kachinuki Ryūhei)
Pokémon (Hisashi, Saiga, Chīko)
Saint Beast (Fuga no Maya)
Soul Eater (Kilik Lunge)
Trinity Blood (Dietrich von Lohengrin)
Drama CDs
Edit
D.N.Angel WINK Series as Keiji Saga
Gundam Seed Destiny as Shinn Asuka
Fruits Basket as Kakeru Manabe
Suikoden as Tir McDohl
Video games
Edit
Arc the Lad: Twilight of the Spirits (Darc)
Castlevania Judgment (Simon Belmont)
Crisis Core: Final Fantasy VII et al (Zack Fair)
Final Fantasy X-2 (Gippal)
Kingdom Hears series (Demyx)
Tales of Legendia (Senel Coolidge)
Wild Arms: Alter Code F (Rudy Roughnight)
Zone of the Enders: The 2nd Runner (Leo Stenbuck)
External Links
Edit
Ad blocker interference detected!
Wikia is a free-to-use site that makes money from advertising. We have a modified experience for viewers using ad blockers

Wikia is not accessible if you've made further modifications. Remove the custom ad blocker rule(s) and the page will load as expected.