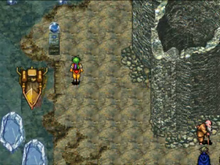 Shasarazade, also known as Shazarazade, Floating Fortress of Shazarazade, Floating Castle of Shazarazade, Floating Garden, Flying Garden, and Imperial Garden, is a location in Suikoden. It is a fortress built on the peninsula between the Tolna Canal and Lake Toran in the Toran Republic. It is occupied by one of the Six Great Generals, Sonya Shulen.
Shasarazade is one of the
Scarlet Moon Empire's
last territories to be overtaken by the
Liberation Army
in SY 457.
Sanchez
, the spy that infiltrated the Liberation Army, ends up stabbing strategist
Mathiu Silverberg
, then sets off explosives to sabotage their plans.