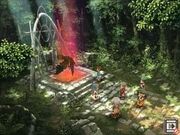 Renegades are monsters from other worlds in the infinity that travel escape into our world throught the gateways. No one in the world they enter can defeat them, however any one from another world (ex: Marica (Other) or Cougar) are able to defeat them. However some characters like Sieg who may be from another world are unable defeat them.
Ad blocker interference detected!
Wikia is a free-to-use site that makes money from advertising. We have a modified experience for viewers using ad blockers

Wikia is not accessible if you've made further modifications. Remove the custom ad blocker rule(s) and the page will load as expected.