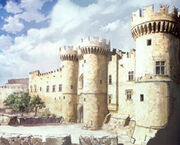 Razril is a city of the Island Nations and the headquarters of the Knights of Razril.
Razril was originally a territory of the Dukedom of Gaien. At some point, the Kooluk Empire took over the island. For some reason Gaien never sent reinforcments. As a result, when Razril threw off the yoke of the empire, they simultaneously declared their independence from Gaien.
Suikoden 20th anniversary fanbook
Miss. CarmenMCS is making a Suikoden Fanbook for the 20th anniversary of the series. She is looking for any artist around that wants to participate! Illustrators and writers for either poetry or fanfics are welcome. For now, she are just asking to see how many of us are interested, and during the second week of April she'll put some final information after talking to you all... so suggest things (what kind of thing you feel like participating in? An illustrations book? A comic book?) and ask your questions (she'll be adding them to their to-be-published FAQ).
If your interested please visit the link below:

Suikoden 20th anniversary fanbook Deviant Art
or
Suikoden 20th anniversary fanbook Thumbler
From an Editor 07:29, March 26, 2015 (UTC)
Genso Chiepoo Merchandise
Genso Chiepoo 01:16, March 2, 2015 (UTC)