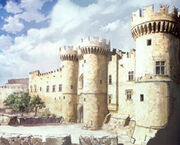 Razril is a city of the Island Nations and the headquarters of the Knights of Razril.
Razril was originally a territory of the Dukedom of Gaien. At some point, the Kooluk Empire took over the island. For some reason Gaien never sent reinforcments. As a result, when Razril threw off the yoke of the empire, they simultaneously declared their independence from Gaien.
Please help us improve Suikoden Wikia by creating or editing any of our articles.