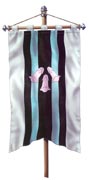 Razril is a city of the Island Nations and the headquarters of the Knights of Razril.
Razril was originally a territory of the Dukedom of Gaien, Razril was an important training facility for young knights of Gaien. Eventually, Razril was attacked by the Kulook. The knights commander Glen Cott held off the enemy army, Razril fell due to the loss of the commander who lost his life due to the Rune of Punishment. Kulook took over Razril once the new commander Snowe Vingerhut forfeited the city to them. For some reason Gaien never sent reinforcements to help them fight off the Kulook, as a result, when Razril threw off the yoke of the empire, they simultaneously declared their independence from Gaien.
Razril is separated into two sections, the knights training quarters and the town square, both of which have their own ports to sail ships.
Please help us improve Suikoden Wikia by creating or editing any of our articles.
Ad blocker interference detected!
Wikia is a free-to-use site that makes money from advertising. We have a modified experience for viewers using ad blockers

Wikia is not accessible if you've made further modifications. Remove the custom ad blocker rule(s) and the page will load as expected.