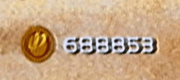 Potch
is the currency of the Suikoden series. Every game uses potch as its currency except
Suikoden
, where potch is translated as
Bits
in the English release.
Potch can be gained by fighting enemies, betting in a minigame, trading and selling an item. The maximum Potch capacity that the player can acquire in Suikoden, Suikoden II and Suikoden III is 999,999 Potch. After the player reaches 999,999, the player can't gain any more money. Even if the player bets in a minigame, trades or sells an item, the potch counter of the game will still be 999,999 Potch. While other games in the series, the maximum potch capacity can reach millions.
Characters Starting Money
Edit
Note: Kyril's starting money is affected by how fast the player defeats the furball enemy in the beggining of the game.
Maximum Potch Capacity
Edit
Please help us improve Suikoden Wiki by creating or editing any of our articles.