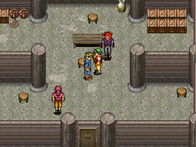 The Pirates' Fortress is a location in Suikoden. It is located on an island at the west side of Lake Toran.
Anji, Leonardo, and Kanak can be found at the Pirates' Fortress. In order to recruit them, Tai Ho and Yam Koo must be in the party. Accept Anji's request to fight, then defeat them. They will then join the Liberation Army and move into the castle Headquarters. The only way to access the Pirate's Fortress is by boat.
Stars of Destiny
Edit
Please help us improve Suikoden Wiki by creating or editing any of our articles.