North Window
Talk

0
2,511pages on
this wiki
North Window was once a bustling town with fortifications that made it virtually impenetrable to enemy attacks.
Once known as the sister town of
South Window
, North Window was transformed into a ghost town following
Neclord
's ravaging of the countryside. Among the residents of North Window during this nightmare was
Viktor
, who lost his beloved
Daisy
in the violence.
In 460, the ghost town was again making headlines when it was discovered that citizens of South Window were disappearing. Granmeyer dispatched a reconnaissance party which included Riou, Freed Y., and Viktor to scout North Window. The party was reacquainted with Neclord, who was amassing an army out of the remains of his past victims. Even with the newly-acquired Star Dragon Sword and the assistance of vampire slayer, Kahn Marley, Neclord retreated and instead called upon one of his minions to attack the group.
North Window CastleEdit
Amid the confusion, South Window was invaded by Solon Jhee's forces and Granmeyer's head was subsequently sacked. Having nowhere else to go, refugees fled to North Window in an attempt to avoid the carnage. After recruiting Shu in Radat, Riou and his forces had to prepare for the first official battle of the Dunan Army in the vicinity of North Window Castle. Using the fortifications left over from past battles, Riou was successful in driving back the Highland Army and the ruins became a symbol of the might of the Dunan Army.
Following the events that unfolded in North Window during the early stages of the Dunan Unification War, the once-abandoned town quickly became the fortress of the Dunan Army. As the war progressed, the castle brought in residents from diverse backgrounds throughout Dunan, as well as a variety of merchants desiring a fresh start. Despite the fact that North Window was decimated by Neclord and his undead forces, the renovated North Window Castle restored the town to its past glory.
Life Inside North Window CastleEdit
North Window Castle catered to a variety of individuals during the
Dunan Unification War
. A first-time visitor would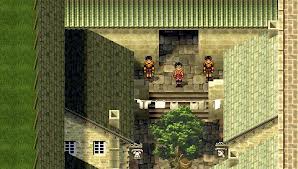 be amazed by the sheer amount of space present on the premises. Barracks were readily available throughout the castle's main halls and passersby could find lodging at the inn run by
Hilda
and
Alex
. On the castle's west wing, one could find a variety of stores run by professional peddlers. A
library
operated by
Emilia
was open to the general public. Farmers could feel at home thanks to the small pastures run by
Yuzu
and
Tony
. A dojo was also readily available for use, although it was often monopolized by
Wakaba
and
Long Chan Chan
. The castle even had a port that was easily accessible to individuals desiring a weekend getaway. Life inside was accommodating and although many residents left the castle grounds following the war, others stayed behind to start anew.
Uses in Other BattlesEdit
However, life inside North Window Castle wasn't always fun and games as the war was constantly looming. En route to the North Window Castle, General Kiba Windamier and his son, Klaus, attempted to ambush the fortress in order to quickly end the war. This, however, was unsuccessful, resulting in a major victory for the Dunan Army as well as the surrender of Kiba and Highland's 3rd Army.
On another occasion, General Ridley Wizen and a small battalion of Kobolds were ambushed by Highland and Harmonian forces during what should have been a routine reconnaissance mission. Riou and Shu had no choice but to immediately dispatch a rescue party to save the general.
Perhaps the turning point of the war also proved to be the castle's greatest challenge. On one fateful night, Luca Blight planned on conducting a covert raid on North Window Castle. Had this operation not have been leaked to the Dunan Army by Leon Silverberg and Jowy Atreides, it is doubtful that Riou and his forces would be able to defend themselves, thus resulting in the massacre of thousands of people and the subsequent surrender of all of Dunan to Highland. As it stands, the castle and its fortifications held and Luca's forces were instead slaughtered in the woods immediately beyond the vicinity. Luca Blight also lost his life, thus turning the tides in favor of the Dunan Army.
Problems with Security?Edit
Despite the fact that North Window Castle held well during battles, undocumented guests occasionally fell through the cracks. Although the son of Lepant and Eileen, castle security initially had reservations about Sheena, as seen in his snooping tendencies on castle grounds. If this weren't problematic enough, several of Seiryu's competitors often proved to be somewhat maniacal in their pursuit to enact revenge on the master chef (one of which went so far as to poison Barbara for seedy reasons). Still, these are trivial matters when compared to the intrusion made by Lucia into Riou's chambers. Luckily, the assassination plot was foiled and security measures were stepped up to squash any outside risks.
Still ThrivingEdit
Unlike the fate of Toran Castle, which was largely abandoned after the Gate Rune War, North Window Castle continues to be a thriving community. Unfortunately, many of the Stars of Destiny left to continue with their lives. Among those who remained include Hans, Shilo, Jude, Feather, Abizboah, and Leona.
Viktor recommend you to not call it North Window Castle and in all honesty you cant with only 8 characters you can only name it NorthWin but it's all up to you maybe Dunan Castle.