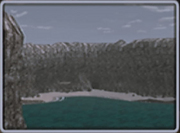 The Nest of Pirates is a well-guarded haven to the southwest of both Razril and Middleport. Traditionally it is known as being refuge and home for pirates such as Brandeau and Lady Kika.
The Nest of Pirates is the hideout of the largest pirate group in the region. The Nest of Pirate's contains a large natural cavern which was successfully converted into a tavern and barracks for the various pirates working under the command of Lady Kika.
King of Obel, Lino En Kuldes was on warm relations with Lady Kika, allowing the remnants of the Obel Navy to flee to Nest of Pirate's.
Following the Island Liberation War in 307, the supply of Rune Cannons began to dry up, leading the pirates to begin hoarding their remaining stockpiles. However, in 309, the stockpile was raided by the Kooluk Empire's Patriarchal Faction, leaving the pirates stranded for fear of their ships encountering those with Rune Cannons ready.
Please help us improve Suikoden Wiki by creating or editing any of our articles.