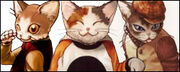 Nay-Kobolds are a race of catmen found predominantly in the Island Nations.
They share their habitat with the humans on Nay Island, although they generally keep their populations separate. However, Nay-Kobolds tend to be generally accepting of other races and their populations often visit the humans' part of the city. In general, few Nay-Kobolds leave their village, with the exception of the "famed entrepreneur" Chiepoo who fought in Lazlo's army. Like normal cats, they use their own claws for their weapons and have no need for other weapons.
Their village is rather whimsical with bright colours and visages of cats everywhere, as well as hot springs that they rarely ever use. For the most part, the village has avoided involvement in wars related to the Island Nations, although two enterprising Nay-Kobolds - Nalkul and Champo - were involved in both the war with the Kooluk Empire and later the dismantling of the Kooluk Empire. Despite their name, it is unknown what - if any - connection they have with the doglike Kobolds of the Northern Continent.
Please help us improve Suikoden Wiki by creating or editing any of our articles.