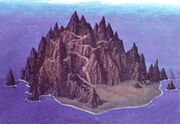 A small island lying isolated far to the north-west. Mountain Mass Island is unoccupied but is said to (and indeed does) contain buried treasures, presumably placed there because of its isolated location. An old boat crashed on this island a long time ago and the shipwreck still remains on the beach today.
The island, as its name references, consists of only a shoreline and a mountain trail. The mountain trail has several pathways which lead to treasure chests. This island is under the Island Nations Federation.
Please help us improve Suikoden Wikia by creating or editing any of our articles.
Ad blocker interference detected!
Wikia is a free-to-use site that makes money from advertising. We have a modified experience for viewers using ad blockers

Wikia is not accessible if you've made further modifications. Remove the custom ad blocker rule(s) and the page will load as expected.