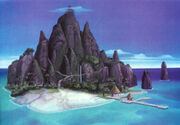 Mordo is a small island under the rule of the Kingdom of Obel lying to the north-west of Obel Island. A small island, its main attraction is its hot springs which make it a popular tourist attraction for weary Obel citizens. It also holds a small trading outpost for those who wish to buy some curiosities.
It appears to have little in the way of permanent population. The island also contains a significant amount of buried treasure in its rocky trails just north of its beach.
Due to Mordo's status as a tourist attraction, it is not unusual for visitors to be accosted by fraudsters and the like.
Notable Characters
Edit
Please help us improve Suikoden Wikia by creating or editing any of our articles.
Ad blocker interference detected!
Wikia is a free-to-use site that makes money from advertising. We have a modified experience for viewers using ad blockers

Wikia is not accessible if you've made further modifications. Remove the custom ad blocker rule(s) and the page will load as expected.