Millie
Talk

0
2,511pages on
this wiki

Millie was seen by Riou looking for a pet named Bonaparte in Ryube Village. When Riou found her pet further into the forest, it suddenly attacked his team. Bonaparte was then discovered to be a groundhog but Millie thinks of it as cute however. As thanks, she goes with Riou in his travels. She befriends Meg, and at the end of the war, goes to the Grasslands with her to find a bride for Bonaparte. This can be seen in the hidden chapter 3 in Genso Suikogaiden Vol. 2 , choosing the second option, only available if the player has a certain (very high) amount of points.
Suikoden II
Edit
RecruitingEdit
Speak to her in Ryube and help her retrieve Bonaparte. Go to the right in the forest, chase Bonaparte and fight him.
Character Details
Edit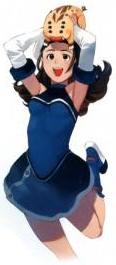 Unite AttacksEdit
Millie can participate in the Pretty Girl Attack with Meg and Tengaar.
Millie has a personal rune: Groundhog Rune. She can only use it once she is recruited.
Since she develops magic slots up to level 4, elemental runes are recomended for her, and the Blue Gate Rune. It can be placed only in the forehead, and Millie is the first character in Suikoden II that can have runes placed in the forehead.
Weapon Growth ChartEdit
Name
Boomerang
Hit Boomerang
High Boomerang
Level
1
2
3
4
5
6
7
8
9
10
11
12
13
14
15
16
Strength
6
9
12
20
25
31
37
43
48
70
83
95
108
119
130
140
Equipment ClassesEdit
Cap, Karate Uniform, Blue Ribbon
Richmond InvestigationsEdit
Name: Millie
Age: 14
From: Unknown
Position: Special Forces
Note: None
"She's always going around with that pet of hers, 'Bonaparte'. She seems to think it's cute, but I just don't see it..."
"She calls that buggy-eyed mutant 'cute'? I tried, but I just don't get it..."
"Y...you won't believe this...I saw Millie actually go 'inside' Bonaparte and take a nap in there!"
Suggestion Box LettersEdit
So this is a suggestion box, huh. I'll write to you later. Bye-bye.
Bonaparte is so cute. When he saw this box, he wanted to pee on it, but I stopped him. Hehe.
Why isn't everyone nicer to my Bonaparte? He's very nice... once you get to know him...
Cook-Off IntroductionEdit
"Could it be that she got to be as sweet as she is by eating nothing but sweets? It's Millie!!!"
Genso Suikogaiden Vol. 2
Edit
As in Vol. 1, chapter 3 has a secret scene that can be selected in its beginnig, only if the player has a certain (very high) ammount of points. In this scene, Nash finds Millie and Meg with Bonaparte and Gadget. Viki appears a little later, and a strange scene unfolds, with a lot of characters, including young Viki, who became a playable character in Suikoden III.