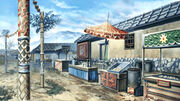 Located in the Grasslands between Tinto, Caleria, and Camaro, the tiny village of Milit was preyed upon by rogue troops from the New State Army during the Dunan Unification War. The Allied Army's administration was not aware of the pillaging done by those troops acting against their own military code and as such did not lend any assistance to the village following its sacking. As a result of this, the villagers remain extremely skeptical of any supposed goodwill towards them on the behalf of the Dunan Republic. However, in SY 461, the town came under siege by bandits claiming to be the Fire Bringer lead by Clant; however, the fake fire bringer were exposed and stopped by Camus and Miklotov, two Matilda Knights who had journeyed to the region and the forces of the Lampdragon Bandits, Gijimu, Lo Wen, and Koyu. As a result of this action, the villagers of Milit have regained their trust in much of their nations.
Please help us improve Suikoden Wikia by creating or editing any of our articles.
Ad blocker interference detected!
Wikia is a free-to-use site that makes money from advertising. We have a modified experience for viewers using ad blockers

Wikia is not accessible if you've made further modifications. Remove the custom ad blocker rule(s) and the page will load as expected.