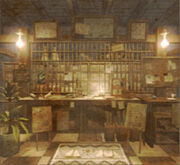 An organisation founded by Lalacle following the Island Liberation War that served as a place for both workers to look for jobs and for employers to seek out employees.
The group served people from both the Island Nations Federation and the Kooluk Empire and jobs varied from the mundane (tutoring, shopkeeping) to the dangerous (exploring ruins, battling for dragon eggs). As such, quests were divided into several ranks from E to S depending on the danger of the quest and the rewards involved.
By the year 309, the group had gained enough popularity to necessitate the opening of an office in Middleport and was often frequented by Kyril and his group as a source of Potch.
Please help us improve Suikoden Wikia by creating or editing any of our articles.
Ad blocker interference detected!
Wikia is a free-to-use site that makes money from advertising. We have a modified experience for viewers using ad blockers

Wikia is not accessible if you've made further modifications. Remove the custom ad blocker rule(s) and the page will load as expected.