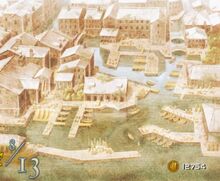 The town of Merseto is located to the northeast of Fort El-Eal in the region formally known as Kooluk.
Once a bustling town, Merseto became a shadow of its former self after the Island Liberation War.
The sudden cessation of trade and commodities from the Island Nations had a huge effect on the economy as well as the collapse of the Kooluk Empire.
It is not known what happened to Merseto following the collapse of the Empire.
Please help us improve Suikoden Wiki by creating or editing any of our articles.