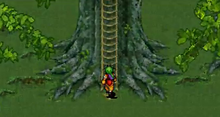 Lukiae Ende Towayo is a location in Suikoden. It is the incredibly large tree that the Village of the Elves is constructed on. Kwanda Rosman uses the Burning Mirror to destroy the tree (SY 456), killing most of the elves that lived there. With the help of Kirkis, their new Chief of the Village, the elves quickly rebuilt the village.
The tree provides copious amounts of space for day to day living as well as a large amount of camouflage. It is said to have grown to it's gigantic size due to the combined magic of the Six Wise Men of the Forest. Every 60 years, Lukiae Ende Towayo would shed its leaves, leaving the residents of the tree to wander around for a year before returning to the tree. The Village of the Elves is a self-sustaining community, likely due to the elves' xenophobia. They derive everything from Lukiae Ende Towayo and the area around.


Please help us improve Suikoden Wiki by creating or editing any of our articles.