Lorelai
Talk

0
2,511pages on
this wiki
Lorelai is the Chikatsu Star in Suikoden, Suikoden II, and Suikoden V. She hunts for the secrets of the Sindar race, and claims to be one. She prefers her companions be stronger than she so they don't slow her down.
Biography
Edit
| | |
| --- | --- |
| | Spoiler Notice: The following may contain plot/storyline detail. |
Suikoden V
Edit
Lorelai is a hunter of ruins of the Sindar race, and in the Queendom of Falena, she falls in with Prince Freyjadour Falenas and Zweig to explore the Ceras Lake ruins, revealing Sindar ruins using the Dawn Rune. While exploring one such ruin, she encounters Viki, and later Lorelai recognizes Viki, but Viki has no recollection of meeting her. Lorelai remains with the prince throughout the war in order to explore all the Sindar ruins in Falena. She is a rival to Killey, who also searches for the secrets of the Sindar.
Post Suikoden V
Edit
Lorelai helps herself to Zweig's research materials and departs for the Scarlet Moon Empire. On the way she changes from using her whip to using a bow as her weapon.
Gate Rune Wars (Suikoden) Edit
Before the Gate Rune Wars, Lorelai came to the Scarlet Moon Empire in search of Sindar Ruins. She met Tir in Kouan and accepted to join his army when she could tell he was a stronger fighter than she. She remained throughout the war, but found no Sindar ruins to speak of.
Post Gate Rune Wars Edit
After the war, Lorelai continued her search for Sindar ruins in the newly created Toran Republic. She once again changed weapons, discarding her bow for a halberd given to her by Kirke
Dunan Unification War (Suikoden II) Edit
While in Gregminster, Lorelai encounters Riou, and joins him to learn of Ruins in Dunan. She once again encounters Killey as a member of the Dunan army. She remains with them through the end of the war.
Post Dunan Unification WarEdit
Lorelai departs for Kanakaninorder to beat Killey to the Sindar ruins rumored to be there.
| | |
| --- | --- |
| | Spoilers End Here |

Recruiting Edit
Lorelai joins Tir in Kouan if he's over level 25 when he talks to her.
Character Details
Edit
Unite AttacksEdit
Attached RunesEdit
Recommended RunesEdit
Lorelai can make use of magic and effect runes effectively.
Lorelai is an effective back row attacker with her bow, as well as capable with magic runes.
Weapon GrowthEdit
Name
Short Bow
Silver Bow
Magic Bow
Level
1
2
3
4
5
6
7
8
9
10
11
12
13
14
15
16
Strength
5
7
10
14
18
35
42
48
54
63
70
81
105
117
132
155
EquipmentEdit
Head -
Body -
Hand -
Foot -
Suikoden II
Edit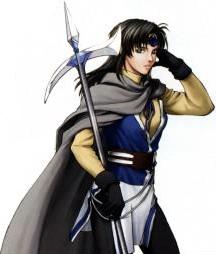 Recruiting Lorelai Edit
Lorelai appears in Suikoden II as one of the 108 Stars of Destiny. She can be recruited in Greminster by speaking to her. The easiest way to is by having Killey in your party.
Lorelai is a balanced physical attacker and magic user, and with her spear can operate from the front or rear rows.
Weapon GrowthEdit
Lorelai now wields Kirke's scythe named for Tarot cards
Name
Tower
Death
Judgement
Level
1
2
3
4
5
6
7
8
9
10
11
12
13
14
15
16
Strength
5
8
12
24
32
37
42
48
53
80
88
98
110
120
130
140
Attached RunesEdit
Lorelai comes with a Drain Rune attached to her right hand.
Recommended RunesEdit
A Killer Rune is useful if you want to take advantage of her Drain Rune. She's a competent mage or fighter so she is rather flexible with most runes.
Unite AttacksEdit
She has a Unite with Rina, Karen, or Kasumi (any combination of the 3) called the Beauty Attack (Suikoden II) which does 0.25% damage to all enemies and has a chance at putting the enemies to sleep.
Richmond InvestigationsEdit
Name: Lorelai
Age: 28
From: Queendom of Falena
Position: Archer
Note: None
"Basically, she's searching for the secrets of the Sindar, but 3 years ago she took part in the Toran Liberation War. I heard she's only interested in strong men."
"The Sindar are a mysterious tribe that came from the north and left ruins in every land they visited. They finally went south and just disappeared."
"She's got lots of rivals that are trying to solve the riddle of the Sindar before her. Lemme tell ya though, she's crushed more than a few competitors in her lifetime....."
Suggestion Box LettersEdit
Cook-Off IntroductionEdit
"Oh lovely lady wanderer, what is that awaits you when you reach your destination? It's Lorelai!!!"
Suikoden V
Edit
Recruiting LorelaiEdit
Lorelai appears in Suikoden V as one of the 108 Stars of Destiny, she joins automatically at the Ceras Lake Ruins.
Weapon GrowthEdit
Lorelai wields a whip while in Falenia.
Name
Leather Whip
Chain Whip
Ninetail Whip
Level
1
2
3
4
5
6
7
8
9
10
11
12
13
14
15
16
Strength
10
20
35
50
75
90
110
125
140
160
170
180
190
210
230
250
Oboro's Investigation

Edit
1: Lorelai is a gorgeus girl (if I do say so,) devoted to pursuing the Sindar civilazation´s mysteries. But she´s quite a mystery herself.

2: On one of her "expeditions," she wound up trapped in the Deep Twilight Forest´s ruins... with Killey. She won´t say how they got out, but I heard her mumble something about Viki. But Viki... well, Viki sounds clueless about it.

3: I´ve seen Gavaya follow Lorelai, Hazuki, and Norma around. They´re all very pretty girls, so I guess I can understand how he feels, but still...
Suggestion Box
Edit
Is it true that Your Highness freed Killey from Agate Prison? Big mistake, if you ask me.
He gets all the way to those ruins and then he just leaves...What is he up to?

There's a fake rumor going around that I've been bullying Viki. It's totally not true. She's the one that opened that hole in the forest ruins' ceiling and let me out. I just wanted to know why she keeps denying it, that's all.
In Suikoden II, recruiting Lorelai with Killey in your party will produce extra dialogue as the two banter about their past encounters.
Lorelai has used a different weapon in every appearance she's made in the main series. Starting with a bow in the first game, a scythe in the second and a whip in the fifth. This suggest that Lorelai is a very well rounded and capabale fighter and is further reflected in that her recruitment usually involves being a high level,