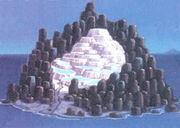 The Lime Shelf Island island is a tiny isle lying to the far south-west. A unique feature of this island is that it is entirely made up of limestone shelves layered upon themselves, hence the island's name. Encased with the limestone is a chest hidden by those who assumed that no-one would visit such a remote island. This island is under the Island Nations Federation.
Please help us improve Suikoden Wikia by creating or editing any of our articles.
Ad blocker interference detected!
Wikia is a free-to-use site that makes money from advertising. We have a modified experience for viewers using ad blockers

Wikia is not accessible if you've made further modifications. Remove the custom ad blocker rule(s) and the page will load as expected.