Lepant
Talk

0
2,511pages on
this wiki
Lepant is the Tengou Star in the first Suikoden. He wields a one-handed sword named Kirinji
Biography
Edit
| | |
| --- | --- |
| | Spoiler Notice: The following may contain plot/storyline detail. |
Gate Rune Wars (Suikoden) Edit
Before the Gate Rune Wars, he was a successful merchant at Kouan, but he secluded himself so that he wouldn't have to get involved with the Gate Rune Wars. However, when Tir and company stole Kirinji in an effort to gain audience with Lepant, Kraze kidnapped Eileen. Lepant went to rescue her and with Tir's help they confronted Kraze, who sends soldiers against them, then held Eileen hostage. Kraze then summoned Pahn, who rebelled against Kraze and rescued Eileen. With Kraze dealt with, and the corruption of the Empire revealed, Lepant decided to join with the Liberation Army. At this time he tries to tell Eileen that they are no longer married to spare her the hardships of war, but she chooses to remain at his side. Lepant is a fierce warrior, and with his sword, Kirinji, he was second to none in battle.
Post Gate Rune Wars Edit
After the Gate Rune Wars was over, Tir McDohl leaves without a word. This sent shocks throughout the Toran Liberation Army, but everyone asked Lepant to become the President. Lepant agrees, and became the first president of the Toran Republic.
Dunan Unification War (Suikoden II) Edit
During the Dunan Unification War, Lepant makes amends with Dunan Forces, lending Toran's military to them in their battle against the Highland Kingdom.
| | |
| --- | --- |
| | Spoilers End Here |
Recruiting Edit
Lepant joins Tir automatically after saving Eileen.
Character Details
Edit
Unite AttacksEdit
Lepant can participate in both the Couple Attack and the Lepant Family Attack.
Attached RunesEdit
Recommended RunesEdit
Lepant is a good character to attach a Counter Rune or Killer Rune to.
Lepant is a strong front line fighter.
Weapon Growth Edit
Name
Kirinji
Kirinji 2
Kirinji 3
Level
1
2
3
4
5
6
7
8
9
10
11
12
13
14
15
16
Strength
5
7
9
12
16
20
33
40
48
59
70
80
102
115
134
150
EquipmentEdit
Head -
Body -
Hand -
Foot -
Suikoden II
Edit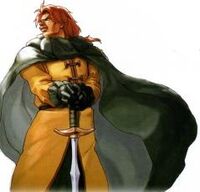 Lepant also appears in Suikoden II in Gregminster castle.