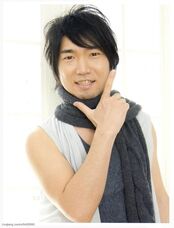 Katsuyuki Konishi
(小西 克幸
Konishi Katsuyuki?
, born April 21, 1973) is a Japanese voice actor from Wakayama, Wakayama. He is affiliated with Ken Production. His debut role was Volfogg/Big Volfogg in GaoGaiGar.
He was the special guest at the 2010 Anime Expo in Los Angeles, USA, where he met his fans and revealed that his favorite anime character was Kamina from Tengen Toppa Gurren Lagann; also adding that each character whom he voiced is important to him. Konishi was awarded the Best Supporting Actor Award in the 9th Annual Seiyū Awards on 6 March 2015.
Roles in Suikoden
Edit
Notable Roles outside of SuikodenEdit
Video GamesEdit
| Title | Role |
| --- | --- |
| Tales of Symphonia | Lloyd Irving |
| Inuyasha: Juso no Kamen | Utsugi |
| .hack//G.U. | Sakaki |
| Title | Role |
| --- | --- |
| Hikaru no Go | Hiroyuki Ashiwara |
| Digimon Frontier | Koji's Father, Piddomon |
| Devil May Cry | Simon |
| Diabolik Lovers | Reiji Sakamaki |
External Link
Edit
Ad blocker interference detected!
Wikia is a free-to-use site that makes money from advertising. We have a modified experience for viewers using ad blockers

Wikia is not accessible if you've made further modifications. Remove the custom ad blocker rule(s) and the page will load as expected.