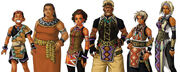 The Karaya Clan is a clan in Suikoden III.
Description
Edit
The Karaya Clan is one of the Six Clans of the Grassland. They live in Karaya Village and are on good terms with the Lizard Clan (as they are fellow warrior tribes). Even among the Grassland Clans, the Karaya Clan has been known as a warrior clan. It seems that the Karaya Clan eats a lot of meat and uses, according to Sgt. Joe, many scrumptious spices. The Karaya Clan believes in the Earth and Wind Spirits and some are even able to communicate with them.
Notable Individuals
Edit
Please help us improve Suikoden Wiki by creating or editing any of our articles.