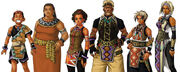 The Karaya Clan is one of the Six Clans of Grassland. They live in Karaya Village and are on good terms with the Lizard Clan (as they are fellow warrior tribes). Even among the Grassland Clans, the Karaya Clan has been known as a warrior clan. It seems that the Karaya Clan eats a lot of meat and uses, according to Sgt. Joe, many scrumptious spices. The Karaya Clan believes in the Earth and Wind Spirits and some are even able to communicate with them.
Ad blocker interference detected!
Wikia is a free-to-use site that makes money from advertising. We have a modified experience for viewers using ad blockers

Wikia is not accessible if you've made further modifications. Remove the custom ad blocker rule(s) and the page will load as expected.