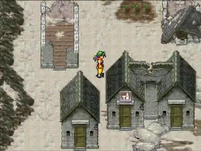 Kalekka is a location in Suikoden.
Overview
Edit
Kalekka, a small town in the Dana region, was once a thriving, agricultural town before the citizens were killed in a massacre. The Scarlet Moon Empire blamed invaders from the City-States of Jowston for slaughtering the citizens, but in truth the people of Kalekka were killed by Scarlet Moon Empire soldiers in a strategy created by Leon Silverberg to raise the Scarlet Moon's citizens support for a war with Jowston. Prior to its devastation, Kalekka produced cotton, but all the cotton fields were destroyed after the massacre. This event would come to be named after the town and became known as the "Kalekka Incident."
The Toran Republic encourages citizens to move to Kalekka, but progress in this regard is quite slow. However, Kalekka has slowly recovered to the point that it has began to participate in trade, exporting their flour to the Dunan Republic village of Ryube.
Stars of Destiny
Edit
Please help us improve Suikoden Wiki by creating or editing any of our articles.