Junko Kawano
is an illustrator, writer, producer, and director for Konami Corporation.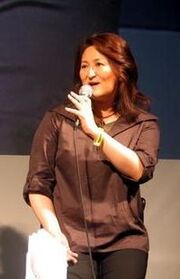 Junko Kawano joined Konami in 1993 and was tasked with working with Yoshitaka Murayama on creating a game for an internally developed console that was eventually cancelled. The game they designed was an early draft for what would become Suikoden II. After the console was cancelled, Junko joined Murayama to work on a new RPG to be released on Sony's new PlayStation console. They decided to create a prequel title to the unfinished game they had been working on and thus the original Suikoden was born. Kawano worked on all the character designs and overall visual feel of the game. When the game proved to be a success the two designers decided to finally finish their original game. Kawano returned as a game designer but left character designs to Fumi Ishikawa. While working on Suikoden II she was also helping out designing the TwinBee RPG. Kawano moved away from the Suikoden series to produce, write and and illustrate the PlayStation 2 Adventure game Shadow of Memories .
After Murayama left Konami following the release of Suikoden III, Kawano was put back in charge of the Suikoden franchise. She began working on Suikoden IV working as the game's producer, main designer, and character designer. She focused on modernizing the franchise with contemporary features like voice acting, use of motion capture technology, and making the game compatible with Progressive Scan TVs. The game was a modest success in Japan but didn't fair as well overseas. She next began working on a game called Rhapsodia which was meant to be a gaiden game for Suikoden IV. Eventually the game was renamed Suikoden Tactics when released overseas. Kawano returned in her position as producer, character designer, and main designer and wanted to focus on a new take with the franchise by making the game into Strategy Role-Playing Game. Once again, it was a modest success in Japan but met with mixed reviews abroad.
She later returned to working on adventure style games for the Nintendo DS, creating Time Hollow in 2008 and Zack & Ombra: The Phantom Amusement Park in 2010. She has largely stayed low since then and is presumed to still be working for Konami as a writer and game designer.