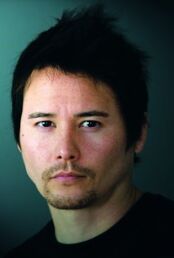 Johnny Yong Bosch
(born January 6, 1976) is an American actor, martial artist, and musician. His first major role was portraying Adam Park, the Black Power Ranger in the Power Rangers franchise, which led to roles in some martial arts films and television episodes. He provides the English voices for a number of anime productions and video games, including Ichigo Kurosaki in Bleach, Itsuki Koizumi in The Melancholy of Haruhi Suzumiya, Vash the Stampede in Trigun, Guy Cecil in Tales of the Abyss, and Lelouch Lamperouge in Code Geass: Lelouch of the Rebellion. He will be voicing Artemis in the Viz Media dubbing of the Sailor Moon series. He is the front man of the band, Eyeshine.
Roles in Suikoden
Edit
Notable Roles outside of SuikodenEdit
Video GamesEdit
| Title | Role |
| --- | --- |
| Tales of the Abyss | Guy Cecil |
| Tales of Symphonia: Dawn of the New World | Emil Castagnier |
| Time Hollow | Ethan Kairos |
| Valkyrie Profile 2 Silmeria | Kraad |
| Wild ARMs 4 | Kresnik Ahtreide |
AnimationEdit
| Title | Role |
| --- | --- |
| Space Racers | Raven |
| Stand by Me Doraemon | Noby |
| Doraemon | Noby |
External Links
Edit
Ad blocker interference detected!
Wikia is a free-to-use site that makes money from advertising. We have a modified experience for viewers using ad blockers

Wikia is not accessible if you've made further modifications. Remove the custom ad blocker rule(s) and the page will load as expected.