Jillia

It looks like I don't have the power to stop my

brother

. I've begun to realize that. As a princess and a woman, I'm limited in what I can do."
Jillia Blight appears in Suikoden II.
She also appears in Genso Suikogaiden Vol. 1.
BackgroundEdit
Jillia Blight is Luca's younger half-sister and the Princess of the Highland Kingdom.
She was conceived as a result of the rape of Luca's mother when the Highland royalty were ambushed by ruffians from Muse. She bears a strong resemblance to her mother, who died shortly after Jillia was born, and is the only person Luca allows to speak on equal terms with him due to that.
AppearanceEdit
PersonalityEdit
Before Dunan Unification WarEdit
When Jillia was young, she would often spend time in their mansion in Kyaro.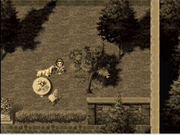 Dunan Unification WarEdit
Jillia marries Jowy Atreides, who had been rapidly promoted in the Highland military structure, and ends up caring for Pilika. When Luca is killed, Jillia inherits the throne and Jowy becomes Commander-in-Chief of the Highland military. She was aware that Jowy was using her, but she played along because she fell in love with him. Upon Highland's defeat, Jowy arranges for her to flee with Pilika to a manor in Harmonia.
Please help us improve Suikoden Wiki by creating or editing any of our articles.