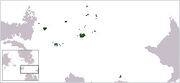 The Island Nations are a confederation of loosely affiliated islands including the Kingdom of Obel and its surrounding neighbors.
The Island Nations are most famous for the Island Liberation War in which they banded together under the forces of Lazlo and Lino en Kuldes for the purposes of overcoming the occupation of the Kooluk Empire and the Cray Trading Company.
Points of Interest
Edit
Other Island
Edit
The Island Nations were first mentioned in Suikoden II in the Richmond Investigations for Amada who was born there before moving to Radat.
ISO Certificate Consultancy Kayzed helps the organization in getting ISO Certification and other significance done smoothly and cost effectively. Just fill the simple form and get in touch with us for any kind of services as ISO consultancy training, certification against various standards like ISO 9001 Quality Management System, ISO 14001 Environment Management System, OHSAS 18001 Occupational Health Safety Management System, ISO 50001 EnMS Energy Management System, ISO / IEC 17025 Laboratory accreditation management system, ISO 27001 information management system, ISO 20000 IT Service Management System and HACCP ISO 22000 Food Safety Management System etc. 2.50.6.229 My Message Wall
---
Barbershop Cherepovets. Beauty Parlour. Manicure. Pedicures.
Cherepovets hairdresser, beauty salon, cranberries, ladies haircut, men's haircut, children haircut, haircut, hairstyle, hair, coloring, styling, braids, weaving, perms, straightening, eyebrow, manicure, nail, pedicure, nail design, correction eyebrows, spa-procedures, hair treatment, bio-lamination, screening, coloring, highlighting, remover, hair cosmetics 128.71.34.12 My Message Wall
---
Suikoden 20th anniversary fanbook
Miss. CarmenMCS is making a Suikoden Fanbook for the 20th anniversary of the series. She is looking for any artist around that wants to participate! Illustrators and writers for either poetry or fanfics are welcome. For now, she are just asking to see how many of us are interested, and during the second week of April she'll put some final information after talking to you all... so suggest things (what kind of thing you feel like participating in? An illustrations book? A comic book?) and ask your questions (she'll be adding them to their to-be-published FAQ).
If your interested please visit the link below:

Suikoden 20th anniversary fanbook Deviant Art
or
Suikoden 20th anniversary fanbook Thumbler
From an Editor 07:29, March 26, 2015 (UTC)
Genso Chiepoo Merchandise
Genso Chiepoo 01:16, March 2, 2015 (UTC)