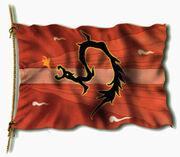 The Island Liberation Navy (known more informally as simply the Liberation Navy) was a group of soldiers and other volunteers who fought against the Kooluk Empire during the Island Liberation War.
The Island Liberation Navy was founded by Lino En Kuldes under the advisement of Elenor Silverberg, using the remnants of the Obel Navy that had fled the island following its fall to Kooluk as its basis. The navy was formed due to the need for all the islands in the region to unite against Kooluk to ensure their continued independence.
Although Lino En Kuldes founded the navy, it was Lazlo, a young man who had only recently begun working in Obel following his exile from Razril who assumed the mantle of leadership.
The reason for this appointment, aside from Lazlo's ability to lead and inspire was an attempt to separate the Island Liberation Navy from the Kingdom of Obel.
A quick alliance with Kika's group of pirates, based at the Nest of Pirates, followed by a successful alliance with Na-Nal and guarantees of cooperation from Nay and Middleport allowed the navy to grow strong enough to stand up to Kooluk, first liberating Razril and then Obel.
With the region free from Kooluk occupation, the Liberation Navy then attacked the Kooluk fleet at the Kooluk southern outpost of El-Eal, eventually destroying the fortress, curtailing any Kooluk plans for southern expansion for years to come.
After the War
Edit
The Island Liberation Navy was disbanded at the end of Island Liberation War. However, many soldiers and officers did join or otherwise contribute to the newly established Island Nations Federation Navy following its foundation.
Please help us improve Suikoden Wikia by creating or editing any of our articles.
Ad blocker interference detected!
Wikia is a free-to-use site that makes money from advertising. We have a modified experience for viewers using ad blockers

Wikia is not accessible if you've made further modifications. Remove the custom ad blocker rule(s) and the page will load as expected.