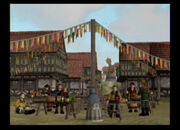 Iksay Village is a small village located in northern Zexen, quite near Budehuc Castle, Iksay is a relatively inconsequential village known for its windmills amongst other things. The village is also famed for its annual summer harvest festivals which are known to draw eager participants from all over the Confederacy.
The village sustains itself mainly by farming and besides that have no other noticeable industry. Iksay is also located on the western fringes of Yaza Plain. The village was attacked in 475 by allied Grassland forces in retaliation for the perceived razing of Karaya Village by Zexen forces earlier in the year.
Please help us improve Suikoden Wikia by creating or editing any of our articles.
Ad blocker interference detected!
Wikia is a free-to-use site that makes money from advertising. We have a modified experience for viewers using ad blockers

Wikia is not accessible if you've made further modifications. Remove the custom ad blocker rule(s) and the page will load as expected.