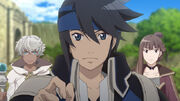 Humans are the most common race in the Suikoden series. Almost all of the protagonists in all of the games are purely human except for Kyril, who is a Demi Human. Lots of main antagonists of the series are also humans. On the 108 Stars of Destiny, humans are greater in number compared to other races. Humans may belong to a group, they can be in a tribe, clan, etc. Humans are chosen by the True Runes to becomes its host or a bearer and often suffer from it. Many elves, dwarves, beavers, kobolds and other races hates humans. Lots of human leaders of a country plan and started to invade other places and the conflict between humans and other races grows bigger between countries and races.
Please help us improve Suikoden Wikia by creating or editing any of our articles.
Ad blocker interference detected!
Wikia is a free-to-use site that makes money from advertising. We have a modified experience for viewers using ad blockers

Wikia is not accessible if you've made further modifications. Remove the custom ad blocker rule(s) and the page will load as expected.