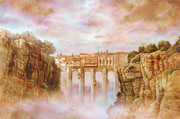 A unique example of exemplary architectural intelligence, Haruna is a town actually built along a bridge which crosses a large canyon dividing Kooluk territory.
It is said that Haruna was originally two small villages on either side of the canyon but as time passed the villages continued to grow, eventually forming on the bridge that is now known as Haruna.
In 309, Haruna was under the governance of Lady Ornela who was well respected in the town for her hands-on approach to her duties with a minimum of delegation to the Patriarchal Faction who over the previous few years had grown to run most local matters throughout the Empire.
However, despite this, Haruna in this period was suffering from food shortages like much of the Empire creating a situation where many citizens of the town either had to leave to work for food or simply try and scrape by on what little they could manage.
The status of the town after the collapse of the Kooluk Empire is unknown.
Please help us improve Suikoden Wiki by creating or editing any of our articles.