Gregminster is the capital of the Scarlet Moon Empire and the headquarters of the Imperial Army.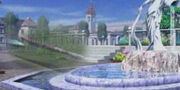 People of Interest
Edit
Gregminster hosts the introduction to the game and is where Tir meets many important characters for the first time.
Emperor Barbarosa: Palace throne room, only visible during the audience with the Emperor.
Windy: Palace throne room, only visible during the audience with the Emperor.
Kasim Hazil: Waiting room in the palace, can be spoken to before talking to Teo and after the audience.
Teo McDohl: Waiting room, speaking with him begins the Audience.
Kraze: Office in castle.
Kanaan: Kraze's office before Rockland assignment.
Futch: Castle stable
Black: Castle stable
Sonya Shulen: In her home north of the McDohl mansion.
Marie: Inn
Viktor: Inn when on the run.
Milich Oppenheimer: The leftmost house with roses in the town.
Suikoden II
Edit
People of Interest
Edit
The Palace Throne room containts President Lepant, his wife Eileen, Alen, Grenseal, and Tesla. Valeria and Kasumi enter here when Riou is offered a choice of who to recruit, as well. You can also see Lotte, has taken residence in one of the houses.
A Trading center, an Inn, the weapon and armor shops, as well as the runemaster are all available.
Places of Note
Edit
-Sonya's house: Sonya's diary can be read next to her bed.
-McDohl mansion: Pahn's diary next to his bed, Cleo's diary in her room, a picture of Ted hangs on the wall in McDohl's room.
Gregminster is the only town in a mainstream game, to appear more than once in the series
Please help us improve Suikoden Wiki by creating or editing any of our articles.