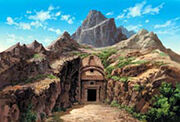 The Great Hollow is the home of the warrior tribe the Lizard Clan. However, they are not entirely committed to the battle - one will still find a great number of ameneties in their home in the Great Hollow - though these ameneties are more catered towards the lizards than any other race; for example, the preferred bedding in the Great Hollow is simply the stone floor. Merchants in both Zexen and the Grasslands often come to the Great Hollow to trade wares. The Great Hollow, more than just the home of the lizard clan, also serves as a powerful defensive structure when needed. The cave prevents access from all but two points, and it is well guarded. It is known to become an impregnable fortress during times of war, making it a valued refuge for allied clans who have been defeated in battle.
Please help us improve Suikoden Wikia by creating or editing any of our articles.
Ad blocker interference detected!
Wikia is a free-to-use site that makes money from advertising. We have a modified experience for viewers using ad blockers

Wikia is not accessible if you've made further modifications. Remove the custom ad blocker rule(s) and the page will load as expected.