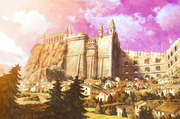 The capital city of the former Kooluk Empire, Graska is located in the centre of the former nation. The city itself appears to built along a series of hills with Graska Palace itself being built into a large cliff-face overseeing the city.
Graska CityEdit
Graska city is mainly patrolled by members of the Imperial Faction which in 309 had lead to a climate of fear and a loss of freedom of expression among the ordinary citizens of the city who had become increasingly disgruntled with Kooluk's increasing corruption.
The situation in Graska by this time was as dire as that in the rest of Kooluk, with a lack of food produce and prosperity, resulting in the emigration of citizens from the city to towns with a reputation for greater prosperity like Merseto.
The Patriarchal Faction under Iskas took control of the city in late 309 following the death of Emperor Julius making the city a dangerous place to visit for those in the Imperial Faction. It is unknown what happened to Graska and its palace following the collapse of the Kooluk Empire.
Graska PalaceEdit
Graska Palace is a large palace built into and atop a large cliff-face overseeing the city itself. A long, heavily guarded path, lined with Kooluk imperial flags, leads from the city to the palace itself, which is also protected by a series of heavily-reinforced gates. The palace's interior is very open, although it cannot be described as well lit.
The palace saw outbreaks of fighting in 309 as the issues surrounding the Patriarchal Faction, the Imperial Faction and Kyril's group came to ahead.
Please help us improve Suikoden Wiki by creating or editing any of our articles.