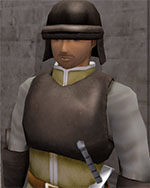 The Gaien Knights hail from the Dukedom of Gaien. Following the end of the Island Liberation War their training base on Razril disbanded, who declared independence, and reformed as the Knights of Razril.
The Hall of Knights (located on Razril) is where young people would go to be trained and become Gaien Knights under the tutelage of a Commander and Vice-Commander, being taught in swordsmanship, magic and naval warfare.
When trainee knights graduated there would be a large celebration and a torch-lighting ceremony known as the Kindling Ritual.
Knights would be sent out on missions around the Island Nations which would include escorting trade ships and patrolling neighbouring seas as well as being tasked with the defence of the Dukedom against their long term enemy, the Kooluk Empire.
Please help us improve Suikoden Wiki by creating or editing any of our articles.