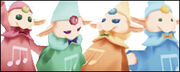 The DoReMi Elves are a type of enemy in Suikoden V. However, with the use of the DoReMi Rune, the Conductor Cornelio has tamed them and started an DoReMi Elf Orchestra. However, on a visit to Haud Village after setting up head quarters at Lord Barows Mansion, the Prince was attacked by the DoReMi Elf Orchestra and killed them. Enraged at the murder of his Orchestra Cornelio, he forced the Prince to find and recruit five new elves. After this was done, Cornelio could perform any song from Suikoden V that the player has heard. In the future Cornelio wants to create a one thousand member DoReMi Elf Orchestra.
Locations
Edit
Ad blocker interference detected!
Wikia is a free-to-use site that makes money from advertising. We have a modified experience for viewers using ad blockers

Wikia is not accessible if you've made further modifications. Remove the custom ad blocker rule(s) and the page will load as expected.