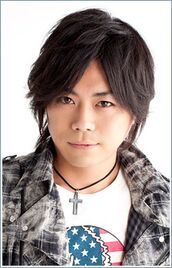 Daisuke Namikawa
(浪川 大輔 Namikawa Daisuke?, born April 2, 1976 in Tokyo) is a Japanese voice actor who started acting at age 8 and is sometimes mistaken for fellow voice actor Daisuke Hirakawa, as their names only differ by one character when written in kanji. Despite his wide range of voice casting, he is usually cast as young, kind heroes as Mikage in 07-Ghost, Fai D. Flourite in Tsubasa: Reservoir Chronicle, Jellal Fernandes and his counterpart Mystogan from Fairy Tail, Keita Ibuki in Black God, and Hetalia's North Italy and South Italy, but he is also cast as cold anti-heroes or villains such Ulquiorra Cifer in Bleach, Hisoka in Hunter × Hunter, Kei Kurono in Gantz, Eustass Kid in One Piece and Toutaku Chuuei in Ikki Tousen.
He is the official Japanese dub-over voice artist for American actor Elijah Wood and Canadian actor, Hayden Christensen. He has also dubbed over some roles that were performed by other fellow actors such as: Leonardo DiCaprio, Tony Jaa, Edward Furlong and Kevin Zegers in Japanese. He made his directorial debut entitled Wonderful World, a live-action film that opened in Japan in early summer of 2010. He also starred in the film itself along with fellow voice actors, Mamoru Miyano, Tomokazu Sugita, Tomokazu Seki, Rikiya Koyama, Yuka Hirata, Showtaro Morikubo and Yuhko Kaida.[2] He won for Best Actor in supporting roles in the 4th Seiyu Awards.
Roles in Suikoden
Edit
Notable Roles outside of SuikodenEdit
Video GamesEdit
| Title | Role |
| --- | --- |
| Angelic Crest Online | Ray |
| Shirachuu Tankenbu | Takahiro Fujieda |
| Star Ocean: Second Evolution | Claude C. Kenny |
| Tales of Graces | Richard |
| Persona 4 | Yu Narukami |
| Mana Khemia: Alchemists of Al-Revis | Other Vayne |
| Hunter x Hunter: Wonder Adventure | Hisoka |
| Title | Role |
| --- | --- |
| Nintama Rantarou | Takamaru Saito |
| Detective Conan | Shiro Ogata |
| Yu-Gi-Oh! | Hayama |
| Saiyuki Reload | Kami-sama |
| The Prince of Tennis | Chotaro Ohtori |
| Hetalia: Axis Powers | Italy and Romano |
| Persona 4:animation | Yu Narukami |
External Link
Edit
Ad blocker interference detected!
Wikia is a free-to-use site that makes money from advertising. We have a modified experience for viewers using ad blockers

Wikia is not accessible if you've made further modifications. Remove the custom ad blocker rule(s) and the page will load as expected.