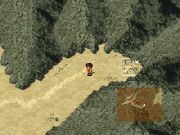 Crom Village is a location in Suikoden II. It is a mining town located in the Tinto Republic, to the southwest of Tinto City. Riou visits Crom Village with Koyu and Viktor, in pursuit of Neclord.
Please help us improve Suikoden Wikia by creating or editing any of our articles.
Ad blocker interference detected!
Wikia is a free-to-use site that makes money from advertising. We have a modified experience for viewers using ad blockers

Wikia is not accessible if you've made further modifications. Remove the custom ad blocker rule(s) and the page will load as expected.