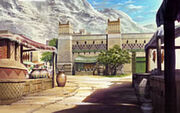 A heavily fortified city, Caleria is an heavily trafficked trading center, thanks to its geographical position, placed at the border of Harmonia, the Dunan Republic and the Grasslands. However, despite the heavy traffic and the large population of the city, most of the city's residents live in poverty. Given its location, the political situation around the area can be somewhat delicate, and the Harmonian Southern Frontier Defense Force headquarters are located in this area. Due to the large amount of traffic from many nations, it is also a place where valuable information, along with goods, may be purchased.
Please help us improve Suikoden Wikia by creating or editing any of our articles.
Ad blocker interference detected!
Wikia is a free-to-use site that makes money from advertising. We have a modified experience for viewers using ad blockers

Wikia is not accessible if you've made further modifications. Remove the custom ad blocker rule(s) and the page will load as expected.