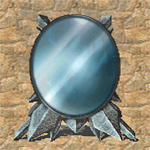 "I'm not sure, but it's called the Burning Mirror. They say it can burn down an entire forest in an instant."
—Valeria, Suikoden
A weapon designed by the Dwarves using alchemy. This mirror allows its user to instantly incinerate a large area from afar, granting great power to those who command it. Due to being made of mostly glass, however, the Burning Mirror is extremely fragile.
The Burning Mirror was never actually built by the Dwarves, but the plans for it were stolen from the Dwarves' Vault by the ninja Kage under the orders of Kwanda Rosman.
Rosman, then under the influence of the Conqueror Rune, had the Burning Mirror constructed with the plan to use it to subjugate the traditionally autonomous races of the Great Forest. He eventually used the Burning Mirror on the Village of the Elves, destroying it and decimating most of its population.
When the Toran Liberation Army made to attack Rosman at Pannu Yakuta Castle, the Burning Mirror was nearly used again to decimate the liberation forces following their victory. However, before it could be used, the Burning Mirror was destroyed by another Dwarven invention, the Firewind Cannon.
Please help us improve Suikoden Wikia by creating or editing any of our articles.
Ad blocker interference detected!
Wikia is a free-to-use site that makes money from advertising. We have a modified experience for viewers using ad blockers

Wikia is not accessible if you've made further modifications. Remove the custom ad blocker rule(s) and the page will load as expected.