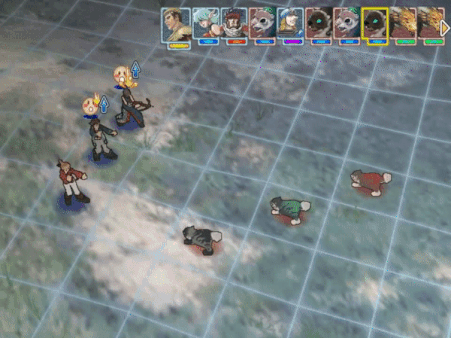 The Barrage Attack is a recurring unite attack in the Suikoden series. It usually involves a trio of archer from the 108 Stars of Destiny coming together to causing significant damage to the enemy.
Suikoden IV
Edit
Barrage attack needs 2 male and one female. It deals 0.4x total damage(lv.1) to all enemies. In it the three archers put their bows together and form a ball of energy. Then all three fire shot after shot making numerous hits to all enemies.
Note: Leveling one group's Barrage Attack does not level another group's Barrage Attack. Each combination must be leveled individually.
Required MembersEdit
Optional MembersEdit
Suikoden Tactics
Edit
Effect: Power 90
Special Notes: None
Enemy/Ally distinction: Yes
Delay until usable: Medium
Required MembersEdit