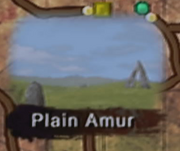 The Amur Plains are a region of the Grasslands that span from just east of Brass Castle to the Duck Village. It is the location of several battles during the Second Fire Bringer War, such as the battle between the Fire Bringer and the Harmonian Army where Sarah conjured illusions that attacked the Fire Bringer. It was also here that the Zexen Knights fought through Grasslanders to gain entry into Karaya after a failed attempt at a peace treaty between Zexen and Grasslands early on in the war. The Amur Plains northern region is a bit more forested and is home to wild horses.
Ad blocker interference detected!
Wikia is a free-to-use site that makes money from advertising. We have a modified experience for viewers using ad blockers

Wikia is not accessible if you've made further modifications. Remove the custom ad blocker rule(s) and the page will load as expected.