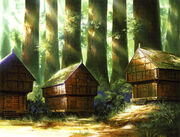 The Alma Kinan Village is located deep within Kuput Forest and is hidden behind a invisible force field causing anyone that attempts to enter the village to return back to the beginning of the forest. Inside the village a seal on the True Water Rune is hidden. The populace of Alma Kinan is mostly female however, Rody, a apprentice of Estella and a male Duck known simply as Mr. Duck can be found.
Please help us improve Suikoden Wikia by creating or editing any of our articles.
Ad blocker interference detected!
Wikia is a free-to-use site that makes money from advertising. We have a modified experience for viewers using ad blockers

Wikia is not accessible if you've made further modifications. Remove the custom ad blocker rule(s) and the page will load as expected.